September

2

2011
It has previously been reported that Rick Perry, who started his political career as a Democrat, chaired Al Gore's 1988 campaign in Texas. However, there's another story-this time during Perry's Republican reign as Governor-that you probably haven't heard, or just simply don't remember.
Rick Perry probably doesn't want to talk very much about the DREAM act, which he is seen signing right here (Texas passed its own version long before Congress made its recent attempt at a Federal version). Especially when he signs them…with members of ACORN proudly surrounding him and his pen.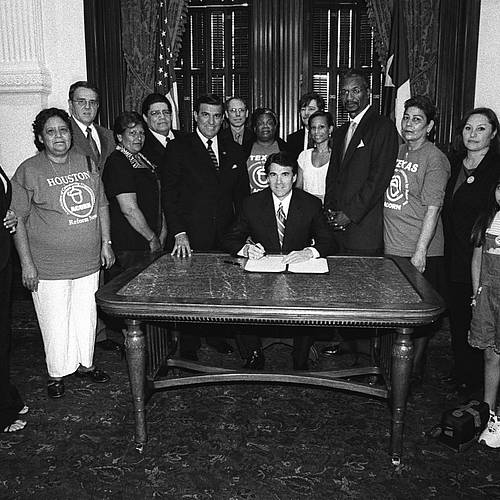 I bet the book Fed Up! has something to say about the DREAM act, which was voted on by Congress not too long ago. And if it doesn't, you now know why.
The only way Rick Perry could explain this away is by saying that State tax dollars are fine to be used for DREAM act provisions, just not Federal dollars. It seems that Rick Perry is fine with anything, as long as Texas doesn't do it (With this argument, he also has to find a way to attack Mitt Romney on health care). So, I hope this picture gets out and questions are asked. You can bet if Michele Bachmann sees this, she'll pay big bucks to post this on every telephone pole and bulletin board in New Hampshire and South Carolina.
In his first gubernatorial campaign debate after succeeding George W. Bush, Perry said he's proud of Texas' CHIP program. You know, the sort of thing he was bashing during the budget debate. Flippity-flop, flippity-flop, the double talk has to stop!
So what say you, Rick Perry? This photo speaks a thousand words, and I think it's going to take a whole lot more than that to explain yourself out of this one.
Tune in to The Crouch Report premiere this Sunday evening at 9 Eastern/8 Central to hear more commentary on this exciting development!
Watch it here: http://www.ustream.tv/channel/kevinscrouch